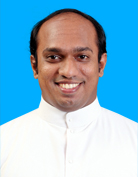 Fr. Joemon Kurisingal, Assistant Director of Kalyan Mathrusangam, Kalyan Diocese, while addressing a galaxy of faithful women of Kalyan Diocese on Mother's day, reflected on the various roles of a mother in the family and the society. Fr. Joemon encouraged the women to always do good for the society by setting an example for others.
Fr. Joemon Kurisingal remarked that "It is necessary to think and act for the betterment of the society and to rethink about how you can improve the world, being a woman. A woman should always think about the society and be an example for others. A mother is the light of her family and thus she should make herself strong enough to face all the ups and downs that come around while building up her family."
Fr. Joemon Kurisingal concluded his remarks by appreciating the gathered women and expressed his gratitude towards all the mothers for their contributions and dedications for the Church and the society.