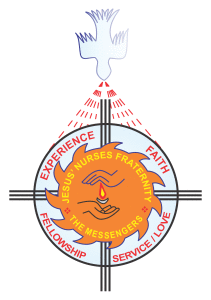 The ministry of nurses was given due importance in the Eparchy of Kalyan right from its inception. Jesus' Nurses' Fraternity reaches out to the nurses in the diocese and arranges for pastoral care to them. There are thousands of nurses of the Syro-Malabar church rendering self-less service in various hospitals in many parts of the Eparchy. JNF has brought almost all of them under one umbrella. The Fraternity aims at organizing and inspiring the nurses to take up this profession as a commitment to Jesus and to see Jesus in the suffering human beings and to bring them healing, both physical as well as spiritual.
The nurses' ministry was formed in 1989 by Bishop Mar Paul Chittilapilly and Msgr. Thomas Thalachira. In the year 2002 the ministry adopted its new name 'Jesus' Nurses' Fraternity' with the initiative of Fr. Shaji Parickappallil.
JNF makes arrangements for Holy Qurbana in Hospitals and Hostels.
Apart From that, Recollection, Confessions and Adoration are held regularly for the benefit of the nurses. Also competitions are held in Christmas Carol Singing, Crib Making, Bible Quiz and many literary events. Athmeeya Sangeetha Sangamam is also organized by JNF annually.
Fr. Varghese Manavalan was the first Director of JNF and subsequently Fr. Jose Vettiyankal, Fr. Jose Aloor, Fr. Benny Ezhormattam, Fr. Joy Paliyekara, Fr. Shaji Parickappallil, Fr. Zacharias Neelankavil, Fr. Shiju Avanoor, Fr. Davis Chalissery and Fr. Liju Keetikal have led JNF for different tenures.
Fr Frinto Ollukaran is the present Director.