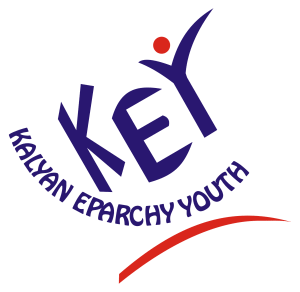 The Kalyan Eparchy Youth is in the process of totalizing 23 years of oneness evident in the selfless co-operation of our Directors and youth members. The Youth Directors are the chords who scaled the talented and creative members to every possible tune. The organizational structure of KEY includes a Parish-level executive committee called the PEXCO, Zonal executive committee called the ZEXCO and the focal point of the diocese's activities, and Diocesan Executive committee called the DEXCO. At each level they are headed by priests as directors and have lay animators who organize various activities to cultivate and nourish various dormant talents of the young people of our diocese.The chief objectives of this ministry are as follows:
To enable the young minds to become deeply aware of their Christian Vocation and commit themselves to Christ and His mission.
Guide the youth through Faith-formation, Value Education and Interpersonal relationships.
To help the youth for developing their talents and establish their own identity.
To expose them into real world problems of the downtrodden and also motivate them to stand up against malpractices around them.
To nurture their growth in a group they are in, so that they have a feeling of belongingness amongst each other.
Thus, this ministry eventually aims at the spiritual upbringing of the youth so that they become the co-workers in the Church and Her mission.
KEY has been proudly organizing various events at parish, zonal and diocesan level. Apart from organizing the events, KEY has been very active in participating in the Western region youth meets, conventions. Also at National level, KEY has been attending National ICYM Meet, Retreats and Conventions. The below mentioned KEY members were elected into the Western/National Team.
Julie Philip – Wexco Member 1996-98
Jisha James – Wexco 1998-99
Maria Johnson, Best Youth (Female) Western Region 2006
Rose Ukken , Best Youth (Female) western Region 2010
Albert Manjaly, Best Youth Award (Male) 2012
Joseph Pudusseri- Western Region Vice President (2013-15)
Fr. Rajesh Mathew– Director, Western region (2013-15)
---
DEPARTMENT CHRONICLES (MAIN EVENTS OF THE CENTRE SINCE THE INAUGURATION)
Youth Day – Enthuzia: From the year 1993 onwards, every year on 26th of January, we celebrate the Diocesan Youth Day, called the Enthuzia where we have various zonal performances and a public meeting. Talks by well-known resource persons are also organized, keeping in mind, the importance of value education and interpersonal relationships.
Fr. Sunny Memorial Choir Competition: This mega event organized by the youth, is a big hit throughout the Diocese where every member of a parish, youth, children as well as parents participate as one team in one of the two categories, with or without instruments and sing Lord's hymns.
Camps: Every year, fun filled camps like the RAIN Camp for the working youth, Koinonia HSC and SSC camps are conducted to provide a stressbuster to the youth from their hectic lives.
Talentia: Every year, The Kalyan Eparchy youth come together for this event, Talentia which is today, well known as a platform for showcasing the talents of our youth. The various competitions held are Dance, Fashion Show, Mime, Comedy Skit, Literary events, Pookalam etc.
KEY Army and KEY Band: This is a Diocesan youth movement with a charismatic spirituality. It is an initiative of young people themselves, where the experience of God is nourished by prayer, the Word of God, fellowship, and sharing the Good News of Jesus Christ with others. KEY army is the fruit of FIAT 2010, the first Spiritual convention of the Diocese of Kalyan for the Youth. KEY Army is a network of young people chosen from each of the parishes, striving to give time to the Lord, responding to the challenges of today's world in the power of the Holy Spirit. Every third Sunday of the month a group of committed youngsters meet at the Bishop's House and spend their time in prayers, praise and worship. KEY army also has a gospel band which conducts retreat, praise and worship and adoration in KEY army prayer meets and various parish and zonal events.
DYR: (diocesan Youth Retreat). This is a spiritual platform for the youth to find out their call to Catholicism and wash away all sins.
---
Former directors of KEY were Rev. Frs. Antony Kollannur, Jacob Akkanath, Mathew Moothassery, Paul Kalarickal, Dominic Mundatt, Baburaj Kakkassery, Franklin Pottananickal, Rajesh Mathew Paruthipallil and Sheen Chittatukara, Fr. Varghese (George) Vattamattam and Fr. Franklin Pottananickal.
The regional co-ordinators of KEY are Rev. Frs. Cyriac Chandrankunnel, Paul Kalarickal, James Kochayankal, James Narithookil, Varghese Vachalackal, Joseph Chakkian, Augustine Puthiyakulangara, Francis Eluvathingal, Zacharias Neelamkavil, Xavier Chitteth.
Former Assistant Directors were Rev. Frs. John Madukoly, Varghese Punnakuzhy, Antony Kolancherry, Paul Madan, Baburaj Kakkassery, Paul Moonjely, Xavier Kanatt, Sunil Kadaparambil, Rajesh Mathew Paruthipallil, Franklin Pottananickal, Siju (Jacob) Kizhakkepallivathukkal, Jenson Poruthur, Fr. Jerry (Alex) Maleparambil and Fr. Antony (Sinto) Pulikkottil
At present Msgr. Francis Eluvathingal is the Director and Fr. Jojit Johny is the Assistant Director.