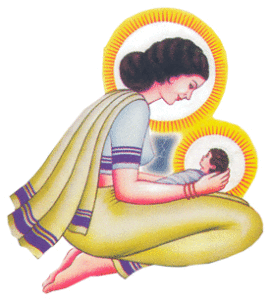 Kalyan Mathrusangham was erected by a decree of Mar Paul Chittilapilly on 25th March 1996 and Msgr. Thomas Thalachira was its first Director. Social empowerment of women, eradication of social evils like alcoholism, dowry system and domestic violence, discouraging lavish lifestyle and above all, witnessing Christ through motherhood are the main objectives of Mathrusangham. Today Kalyan Mathrusangham (KMS) has about 6500 mothers as their members who work in close coordination with the other associations in parish, zonal and diocesan level. Marriage Aid Service Scheme, Educational help for the needy students, Medical aid for the sick, visiting the old and the sick, support for the widows and the needy are some of the activities that KMS is engaged in. Apart from that, it organizes Blood Donation Camps, Medical Check-up, Leadership training, self-help training, counselling etc. from time to time.
Cultural competitions in Singing, Dancing, Elocution, Street Play, Mono Act etc. are undertaken annually at various different levels. More than 600 mothers had participated in the first sports and arts meet held on 14th December 1997 and almost 3000 mothers were there for the Mahila peace rally held on 10th December 2000. A publication named Mahila Darshan featuring literary articles from mothers is released annually and the money earned through advertisements in Mahila Darshan is given for marriage aid service scheme. The 'Meals for the Poor' scheme benefited 101 families in the year 2004-2005. In the same year kitchen kit was supplied to 500 families. In the subsequent years KMS gave financial assistance to several poor families for paying their house rent. Also medical expenses for 40 patients and financial assistance to 8 widows were given by KMS. In the year 2008, HIV- affected children were given financial help. In 2010, KMS gave a donation of Rs.3 lakhs to Animation Renewal Centre and in 2013, Rs.3 lakhs was also donated for 'Samooha Vivaham'.
In the Jubilee year, KMS felicitated parents having four or more children. A Widows Forum and a Counselling Centre have been set up. The Director and the Executive members visit the units periodically. In its triumphant march from infancy through adolescence and finally to adulthood, KMS was very ably guided by Msgr. Thomas Thalachira, Fr. (Dr) Francis Eluvathingal, Fr. Davis Chiramel, Fr. Shibu Pulickal, Fr. Kuriakose Kalaparambath, Fr. Biju Kollamkunnel, Fr. Benny Thanninilkumthadathil in the past. Presently Fr. Shaji Parickapallil is the Director and Fr. Royce Kalaparambil is the Asst. Director of KMS.