With a view to building up happy Christian families that constitute stable societies in the Diocese of Kalyan, the Family Apostolate was formed on 12th February 1992 with Fr. Varghese Manavalan as its Director. This department has been organizing multitudinous activities for the all-round Christcentred personality development of the youth aspiring for married life.
'Remote Preparation for Marriage' helps the youth to acquire clear and sublime views on marriage. The marriage preparation course is a three-day residential programme held every month at the ARC, Panvel. The department also conducts ' Marriage Enrichment Programme' which is an ongoing formation service for the couples to help them strengthen their spousal love after they complete one, five and ten years of their marriage when they refresh their marriage commitment.
Another noteworthy activity of the department is the Parenthood Preparation Programme which helps the couples to be good parents who, in turn, would train their children to lead an ideal married life. Apart from all these, the Family Apostolate arranges seminars on parenting where classes and discussions are held on the practical aspects of parent-child relationship and all-round growth of the children. Every year the Family Apostolate felicitates the couples who celebrate silver and golden jubilee of their wedding. Every year Family Apostolate conducting a Matrimonial Meet called Vaivahika Sangamam a get together of prospective Catholic brides & grooms along with their parents an opportunity to evaluate many proposals in a single venue.
Under the leadership of Fr. Varghese Manavalan, Fr. Benny Thanninilkumthadathil and Fr. Boby Mulackampilly, the Family Apostolate has made big strides in many allied areas of Christian family life in the Diocese of Kalyan. Also Fr. Siby Kochuveetil ,Fr.Liju Irattakuzhakkal and Fr.Lijo Velliyamkandathil has made substantial contributions towards the growth of Family Apostolate as the Asst. Director.
Presently the Family Apostolate is in the very competent hands of the Director Rev.Fr. Shaji Parickappallil, Asst Director Fr. Kiran Eluvathingal and Animator Sr. Merlit (Apostolic Oblates).
---
FAMILY ENRICHMENT PROGRAMME (KALYAN KUDUMBAKOOTAYMA)
Director: Fr. Paul Kunduparambil
Animator: Mr. CG Varghese- Panvel Parish
President: Mr. P. J. Antony – Nerul Parish
Vice President: Mr. Anto P. D. – Bandup Parish
Secretary: Mrs. Rose Shibu – Virar West Parish
Joint Secretary: Mr. Davis T T – Panvel Parish
Treasurer: Paul Varghese – Wagale Estate Parish
Executive Members
Mrs. Veroni Sebastian – Marol Parish
Mrs. Moly Wilson – Assisi Nagar Parish
Mrs. Bessy George – Nerul Parish
– Activate the parish life basically through family units
– Ongoing formation for the couples
– Imparting the value of the wholeness and sacredness of families
– Empowering the couples to face challenges and problems of family life in an  effective manner
---
PRO-LIFE MOVEMENT
Director: Fr. Paul Kunduparambil
Animator: Sr. Paulina MSMI
Mentor: Mr. Joseph John
Co-ordinator: Vinita
Elder: Rose Joseph
Secretary: Edwin
Jt. Secretary: Liza
Treasurer: Jojo
Media Elder: Julie Jim
Media Co-ordinator: Natasha
Media Asst. Co-ordinator: Ann
Teens Coordinator: Jojo
Resource formation coordinator: Mr. Joseph John
Asst. Resource formation coordinator: Joel Chacko
NRP Resource team coordinator: Mrs. Rose Joseph
Mentors coordinator: Dr. Jasmine Johnson
Outreach Coordinator: Vinita
Asst. Activism and Outreach Coordinator: Pinto
Prayer and intercession co-ordinator: Lismaria
Vision
Proclaim, Celebrate and Serve the Gospel of Life
Mission
We, the People for Life, in response to the Gospel of Life, commit ourselves to Prayer, Research and Advocacy of the rights, dignity and sanctity of all Human Life from conception to death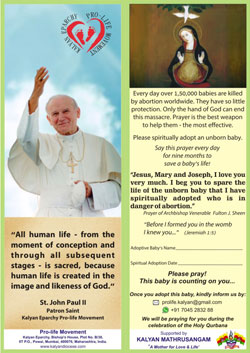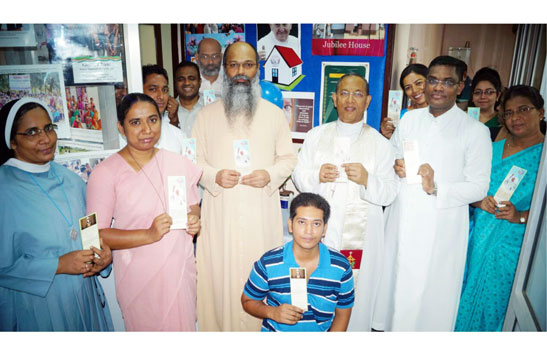 EVA 2017