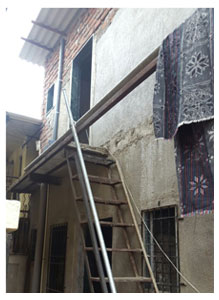 In accordance with the Year of Mercy and engraving the importance of mercy on their hearts, the parishioners of St. Thomas church, Mira Road, went a step ahead in splashing the wave of mercy on the needy by building houses for the homeless.
Under the able leadership of the parish priest, Rev. Fr. Benny Thanninilkumthadathil, the parishioners unanimously decided in the Annual General body meeting of January, 2016 to minimize the expenditures on feast celebrations in February for a merciful cause. As a part of this, it was resolved to curb the expenditure on fireworks, music band and the likes to use the saved sum to serve the needy.
House being one of the basic necessities, plays the role of safety and security in an individual's life. Keeping in mind the necessity of a shelter in a safe surrounding, the parishioners decided to build a house for the homeless. The parishioners dreamt of building one house but by God's grace they could build 2 houses and touch the lives of two families.Keeping the spirit of mercy alive, the parishioners donated their time and money generously in realizing this dream of serving the one in need. This one step for the betterment of humanity is only the beginning of many more ventures to be undertaken for the less fortunate.
For KMC @AnnRaryThekiniath