The universe unfolds in God, who fills it completely. Hence, there is a mystical meaning to be found in a leaf, in a mountain trail, in a dewdrop, in a poor person's face. -Pope Francis, Laudato si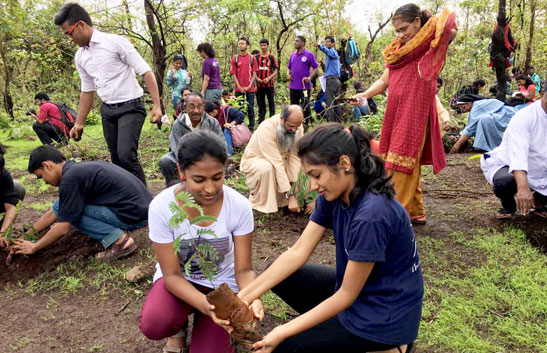 Taking the Encyclical, Laudato Si (Praise be to you, My Lord), to protect the mother earth, as a loving command and inspiration, Karunya Trust of the Eparchy of Kalyan undertook tree plantation drive. The festival of "VanMahotsava" (tree planting), in association with the government, celebrated at Chowre village, Kalyan with the help of 200 volunteers. Under the support and guidance of Fr. Paul Kunduparambil, director of Karunya Trust, the event was executed with the participation of Kalyan Forane faithful, staff of Karunya Trust, children of Holy Cross Convent school, Kalyan and lots of volunteers.
The programme was started with a prayer by Rev. Msgr. Emmanuel Kadankaavil at the St. Thomas Cathedral church, Kalyan, and by 9 am, people reached the interior village, Chowre. After the cordial welcoming of the Forest Dept of the government of Maharashtra, everyone enthusiastically began to planting the saplings. The volunteers were divided into three groups and were given basic instructions for planting the 3000 saplings. The event got joyfully concluded at 12.30 pm, followed by lunch and people went home, filled with love of God, through nature.
For KMC @ Leo Varghese