Parishioners of the St. Thomas Church, Mira Road has shown a great example to the world in this year of mercy.  Keeping in mind the importance of the year of mercy, the parishioners under the leadership of their parish priest, Rev. Fr. Benny Thaninilkumthadathil, decided in the AGM to mitigate the cost on feast celebrations for a merciful cause. They decided to shelter the homeless which is one of the 7 works of mercy according to our faith.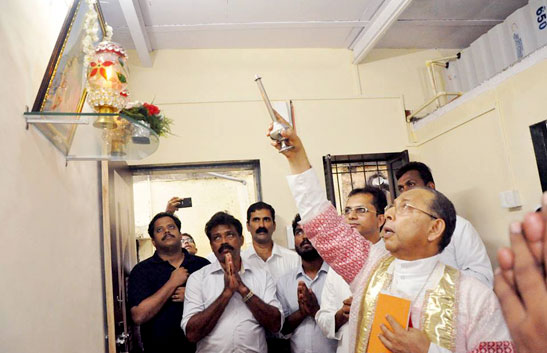 23rd June, 2016 was a day of pride and gratitude for the parishioners of Mira road.
By the grace of the Almighty Father the dream was realized with a double intensity. When the parishioners dreamt of building one house, God's plan and guidance allowed them to build two houses for which they are doubly grateful.
The houses were blessed at 6.30pm by Mar Thomas Elavanal, the Bishop of Kalyan diocese along with the parish priest, Rev. Fr. Benny Thaninilkumthadathil, Rev. Fr. Matthew Anithanam and Rev. Fr. Robin Alenchery from MST. There were special prayers offered in each of the houses along with the family members to whom the house was allotted.
The blessing was followed by the Eucharistic celebration at St. Thomas church, Mira Road at 7.30pm with the Bishop as the main celebrant. The Bishop applauded the efforts and initiative taken up by the parishioners and said this step could be a role model for the other parishes as well. The keys of the houses were handed over by the Bishop to the two deserving families, thus bringing a smile and a sense of security to their lives.
The day concluded with a reminder to the parishioners that this is just the beginning to mighty deeds of mercy to follow throughout.
For KMC @AnnRaryThekiniath