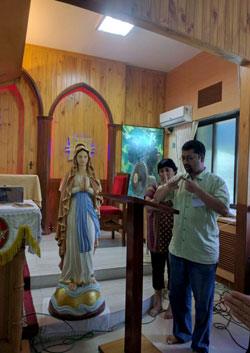 Indian Catholic Deaf Retreat, a residential retreat for the deaf Catholics, organised by Rev. Fr. Preyesh Kalarimuriyil in association with the Bombay Centre for the Deaf (BCD) and the Kalyan Catholic Charismatic Renewal Services (KCCRS), was held at Animation and Renewal Centre (ARC), Panvel, Mumbai on 8th and 9th of October 2016. The retreat, first of its kind, helped the 21 participants, mainly from Maharashtra and Kerala, to understand the Catholic faith in a better way and to receive Jesus in their hearts through the Eucharist.
Fr. Preyesh Kalarimuriyil, an Indian sign language interpreter, from the Archdiocese of Thalasserry said, "This year, we had arranged a one-day retreat for the deaf faithful during the Lenten season. This year a residential retreat was conducted on the request of many, joining with the Universal Church in celebrating the Year of Mercy".  Mr. Stalin Thermadom, one of the participants, testifies, "My personal experience of this retreat was wonderful. It gave me the opportunity to spend more time in prayer and contemplation. Eventually, it rekindles and deepens my relationship with God."
The retreat was inaugurated by Msgr. Emmanuel Kadankavil, Eparchy of Kalyan. The reflections on Love of God, Jesus the Saviour, Commandments of God, Family life and Mother Mary were shared by Fr. Jinto Edattukunnel, Fr. Kuriakose Kalaparambath and KCCRS team. The two days residential retreat concluded with the confessions and healing adoration.
The Bombay Centre for the Deaf (BCD) was founded by Fr. Freddy Alphonso and thanks to Mr. Stanny Alphonso, deaf director of the BCD, for his perseverance in protecting Deaf Catholic Church after the passing away of his brother hearing priest, Fr. Freddy Alphonso.  Today this particular mission of spreading the Good News in Indian Sign Language (ISL) is continued by Fr. Preyesh Kalarimuriyil.   Though there are more than 5000 deaf Catholics all over India, only from Mumbai and Tellicherry, the Deaf Catholics can receive sacraments in ISL. BCD organises Holy Mass (ISL) at St. Theresa Church, Bandra West, Mumbai on Sundays.
For KMC @Fr. Franklin