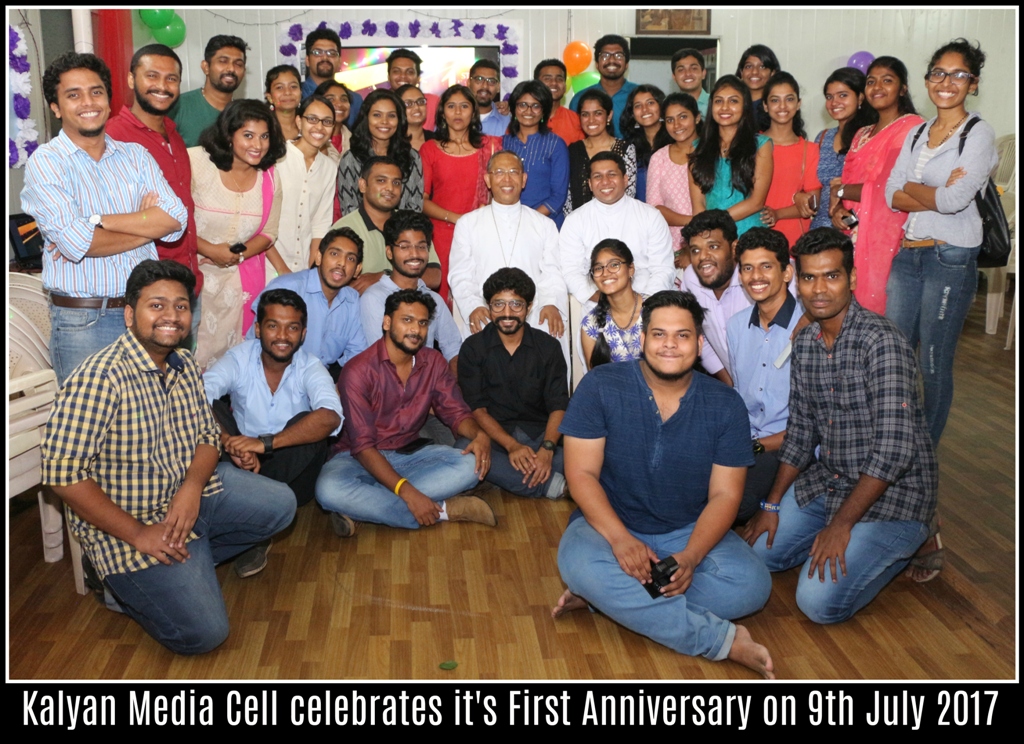 On 9th July 2017, Kalyan Media Cell (KMC), the successfully running media department of Kalyan Diocese celebrated its first anniversary at bishop's house, Mumbai . Kalyan Media Cell is an official media Apostolate of the Eparchy and a powerful communication platform used by the Kalyan Diocese to reach the faithful through media by letting them know about the current happenings of the Catholic churches all over the world. A crowd of around 65 people attended the celebration on the wonderful occasion which commenced at 6:00 p.m.
The celebration began with a thanksgiving adoration. Later the participants entered into a wonderfully decorated room by the active volunteers of KMC, with a Prayer song followed by a welcome speech by Fr. Franklin, the director of Kalyan Media Cell (KMC). Further a documentary on the KMC was screened. Later, Elvin Emmanuel , the secretary of KMC read out the annual report of the KMC. The presentations on various projects initiated and undertaken by the KMC were presented by the active volunteers which made a powerful impact on the audience about the ideas and activities of KMC. Tune of Hope , the short-film made by KMC which intensely conveyed the true meaning and significance of Hope in one's life, was screened during the celebration. His Excellency Mar Thomas Elavanal, the Bishop of Kalyan Diocese, through his message to the gatherings, reminded that , "Communication is always important because it brings us together and forms unity among the people and so we all should be Media Missionaries."
The hard workers, master brains and the dedicated minds working behind KMC were all felicitated by His Grace Mar Thomas Elavanal. The function winded up by a vote of thanks followed by a well-arranged generous dinner.