"Therefore what God has joined together, let no one separate." Mark 10:9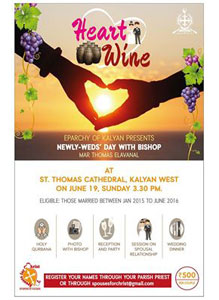 Marriages are arranged by God and spousal relationships are founded on Him. Each family is formed with definite and well-planned purpose by God. Therefore the marital relationship requires faith – both in God and in each other. 'Spouse for Christ' movement of 'Eparchy of Kalyan' takes initiative this year for the first gathering of all newly-wedded couples under one roof and illuminate them with the power of a marital life. Heart-Wine will be held on 19th June 2016 at the St. Thomas Cathedral, Kalyan West, from 03.30 pm.
The intention of 'Heart-Wine' is to enable the married couple to search for happiness and the meaning of family life, since, the secret to having a biblically successful marriage is abiding in Christ. 'Heart-Wine' provides an opportunity for the spouses to take an important time-out, have a date away from the demands of daily living, and be biblically encouraged and strengthened in your marriage relationship. Prayerful remembrance of the Wedding Day,
Photo opportunities with the Bishop in the nuptial outfits, grant reception to the newlyweds, getting to know the other newlyweds in the Eparchy, sessions on spousal relationship, sharing of personal stories and performance by KEY-BAND will make the event interesting and fun to attend. Thoughtful listening is encouraged with time given for questions and answers. Wishing all the best to all the spouses and an enriching time with our Bishop Mar Thomas Elavanal.
For KMC @KoshyRoselyn