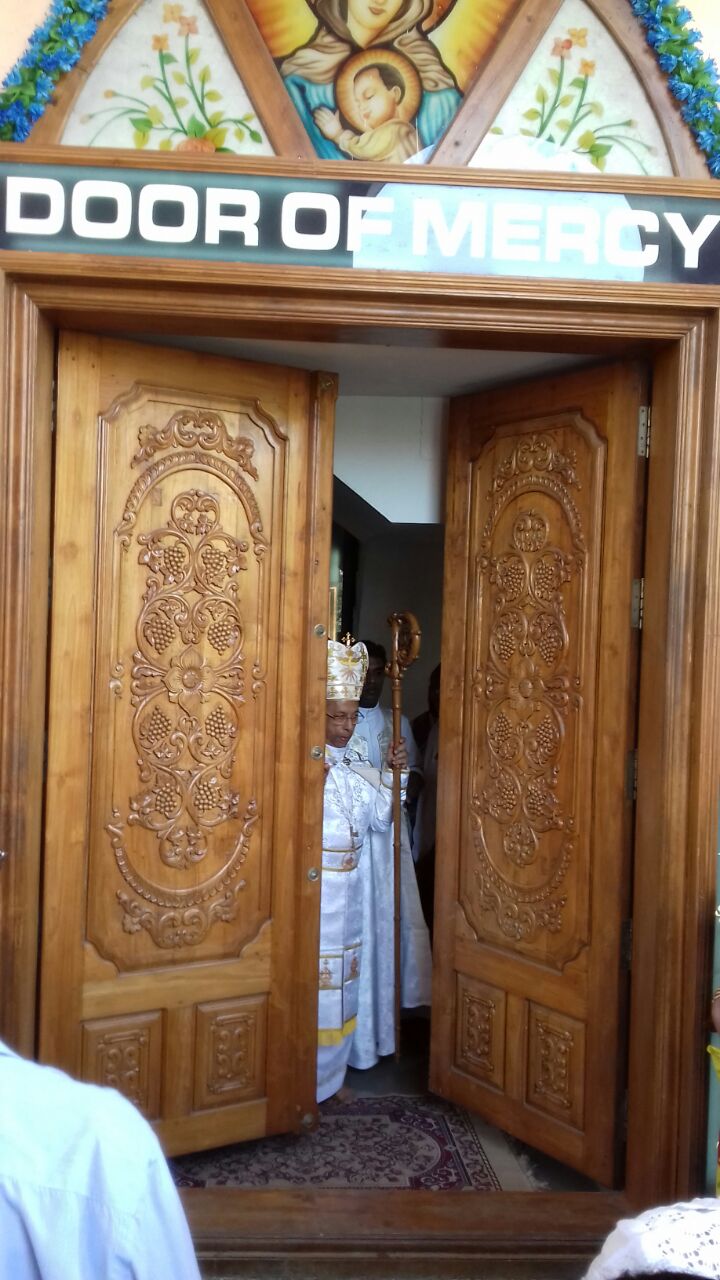 The name of God is Mercy and the face of mercy is Jesus Christ Himself, and so, to be merciful proves to be the core of Christianity. When Pope Francis declared the Jubilee Year of Mercy, a Door of Mercy was inaugurated and opened for the people at St. Thomas Cathedral Church, Kalyan West, by the Bishop of the Eparchy of Kalyan H.E. Mar Thomas Elavanal on 13th December, 2015.
Since then the Cathedral Church saw a flow of people through the door of mercy to receive the indulgences and graces form the Lord.  The whole parish at the Cathedral, the Parish Priest Fr. Jacob Porathur, Asst. Parish Priest Fr. Frinto Ollukaran along with trustees and all other parishioners wholeheartedly welcomed the pilgrims who walked through the door of mercy, with open arms and all the necessary arrangements. More than 16,000 pilgrims from different churches, along with priests, religious men and women have walked through the door of mercy. Saturdays, Sundays and public holidays saw pilgrims in huge numbers. This was carried out tirelessly and earnestly throughout the year.
The closing of the door of mercy then took place on the 13th of November, 2016, by Mar Thomas Elavanal, Bishop of Kalyan, amidst all prayers and thanksgiving of the parishioners. However, we as Christians are called to continue our works of mercy as this was not the end, but it has just marked the beginning. "For me the year of Mercy was an opportunity to draw closer to God.  When I was passing through the Door of Mercy, I felt like taking a step closer to Him through the remission of my sins.  Even though the the Door of Mercy at the Cathedral Church has closed, it shall always be open in our hearts for showing mercy towards our brethren", says Ms. Joanna Joy.  Indeed, the celebrations of the year of Mercy has helped each one to open their heart with compassion for the other.
For KMC @ Ms. Rochelle Varghese .V.