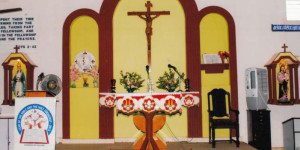 Before the inception of the diocese of Kalyan,the Syro-Malabar Catholics of Mahakali attended the Little Flower Church, Chakala for their spiritual needs. Gradually population increased and felt the need for a separate place of worship. Because of the efforts of the parishioners and well-wishers under the guidance of Rev. Fr. Dominic Mundatt we were able to purchase around 800 sq.ft. area and it was named as St. Joseph Centre. On 20th Feb 2009 Mar Thomas Elavanal declared it as a full-fledged parish.
On 25th June 1998 SMC sisters opened their centre which helped the growth of our parish as they actively involved in all parish activities. They also run a crèche and nursery school.
The catechism classes for our children have started on16-06-1994. We have also the following pious associations like Pithruvedi, Mathrusangham, Altar Boys, Karunya Trust, KEY, Charismatic Prayer group etc.
Another important milestone of our parish was the addition of our own cemetery having 45 graves and 115 niches for the exclusive use of the parishioners. On 18-08-2010 we bought an adjacent plot of around 2200 sq.ft and our church was the restructured and opened on 14-12-2011 for the use of faithful.
At present Fr. Thomas Kunnathettu MCBS is the present Parish Priest. Former priests who served in the parish are: Fr Ephrem Pottemplackal MCBS, Fr George Kunnath MCBS, Fr Dominic Mundatt MCBS, Fr. Joseph Valliamthadathil MCBS, Fr George Menachery MCBS, Fr. Joy Mukaleparambil MCBS, Fr Tony Panicode MCBS, Fr. Mathew Vallovpally MCBS, Fr. Sebastian Thannickal MCBS, Fr. Prince Punthenchira MCBS.
---
DETAILS
Forane: Andheri
Status: Parish
Parish Priest: Fr. Prince Puthenchira MCBS
Establishment of Parish Community: 26/09/1993
Official Erection as a Parish: 22/02/2009
Date of the Consecration of the Church: 22/02/2009
Area of the Church Property: 3000 sq.ft.
No. of Family's: 160
No. of Family Units: 09
Address: Opp. Bindra Complex, M.C. Road, Andheri (E), Mumbai 400093
Phone No.:
How to reach:
---
QURBANA SCHEDULE

Holy Qurbana:
Weekdays Qurbana:
Name of the Religious Congregation & Province: SMC
Type of the Institutions at parish territory: Nil
---
MORE DETAILS
Email id:
Website: