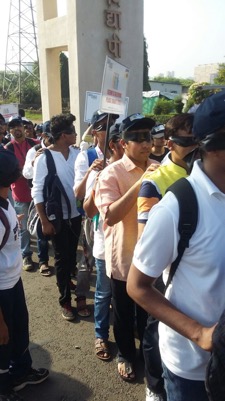 Many of the citizens of Mumbai had witnessed a different event on the Mumbai streets – A big rally of a blind folded group led by the blind. The first Mumbai Blind Walk, the brain child of the Bangalore- based NGO namely Project Vision, was organised on 13th October. It was supported by different institutions of the University of Mumbai and many likeminded groups and NGOs.  The walk, where more than 850 participants came together, started at 8 am from the Sports Complex of University of Mumbai and ended at Chetna College, Bandra. The Mumbai Blind Walk was organised to promote eye donation as a part of World Blind Walk on World Sight Day and to create an awareness on the problems, a blind person suffers.
Dr. Dolly Sunny, Professor, Dept. of Economics-University of Mumbai and the coordinator of the Mumbai Blind Walk, says, "During the Blind Walk, when I was blind folded and I experienced darkness, I realized I am the most helpless being on earth. Totally aloof and isolated from the world, left myself to the mercy of others. Only when we walk blindfolded, we realize how fortunate are those who are blessed by God with the gift of sight." Mr. Virendra Mishra IPS, flagged off the programme and the procession ended at Chetna college with a public programme where the Special IG for VIP Security, Maharashtra State, Mr. Krishna Prakash IPS was the Chief Guest.  During the public programme, led by the Chief Guest , the participants pledged to donate their eyes after death.
"It is not easy for a normal person to walk with his eyes blindfolded.  Today the organisers have made us realise the importance of eye donation", says Denver Xavier, a participant of the Mumbai Blind Walk. Diocese of Kalyan and Karunya Trust extended their cooperation to make true this event. The whole event showed that insight transcends sight and though a man is void of sight, he may not necessarily be void of insight. If sight makes one to see, insight makes one to live.
For KMC @FrFranklin