In union with the Universal Church and Pope Francis, the Diocese of Kalyan has commenced the celebrations of the Extra-ordinary year of Mercy by opening the Door or Mercy at the Cathedral Church in Kalyan W. The events and activities are divided among the Diocesan associations, Deanery (Forane) level, Parish level, and Individual level. Providing a "Mercy Kit" to the faithful, is one of the remarkable acts done by our Diocese. The kit contains materials that help to create a stronger bond between family members and oneself with God.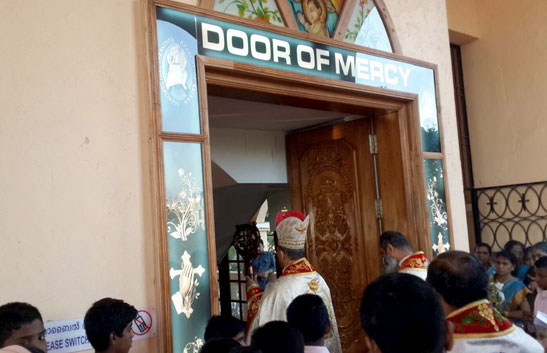 Among the diocesan associations, the Kalyan Mathrusangam (Mother's Association) has taken up the "Organ Donation" drive. Though it started little earlier than the Year of Mercy, it has gained momentum this year and today there are more than 4200 people who have agreed to donate their hearts, more than 9000 people are ready to donate their kidneys and more than 50 people have donated their whole body. Another act of appreciation is organized by the Kalyan Eparchy Youth (Diocesan Youth Association). Through the #Water4Marathwada drive, they collected more than 100,000 litters of drinking water for the drought areas of Maharashtra. At present along with the associations of the diocese, each parish has taken up the extra ordinary year of Jubilee earnestly.
Most of the Parishes have put up hoardings in their church premises about the acts of mercy, which helps each one to follow the same. Each parish is doing at least an act of charity in common. Some of the examples would be the St. Thomas Church (Mira Road), who constructed a house for two families. St. Thomas Catholic Forane Church (Kalina), who started the initiative named "Daya Daan" (Act of Mercy) , distributing more than 250 lunch boxes on every Saturday at the Bandra E areas. Christ the King Church (Bhandup) and Sacred Heart Church (Bhaynder) have come up with street programmes, which highlights the importance of showing mercy to the needy. Various parishes have started to distribute school materials, visit old age homes and orphanages, conduct blood donation camp, provide medical help, distribute food items, conduct seminars and discussions at the parish level and family unit level. All these are just some of the activities being conducted in each parish of the Diocese. People have set apart a small amount of money from their pocket and are utilising it to help the needy.
Through the promotion of spiritual and corporal acts of mercy, the diocese of Kalyan, has influenced the faithful to reach out to the needy ones. This year has created an extra ordinary awareness among the faithful to be merciful through their thoughts, behaviour and actions. This awareness is spreading through the forms of corporal and spiritual acts. The Diocese is promoting each faithful to walk through the "Door of Mercy'; walk through the merciful graces of the Lord, to be a better and merciful Catholic and human being.
For KMC @FrFranklin